BIS Primary School Review
We have come a long way, with our eldest participants now turning 12 years old! Thank you again for the time and effort you have already contributed. Without your support, this world-class project would not be possible.
Each family is a vital part of a project that is genuinely important. We have been awarded three separate National Health and Medical Research (NHMRC) Project grants to conduct the BIS Primary School Review. These awards cover the immune, respiratory, neurodevelopmental and cardiovascular components of the project. We will do our best to honour your contribution by continuing to make discoveries that improve the health of our children.
The Primary School Review process
The Review process includes:
An initial telephone call (5 - 10 minutes)
An online questionnaire for parents to complete (30 - 45 minutes)
A review with parent and child at the Child Health Research Unit (~3.5hours). During this review we offer the child a range of measures, including nuerodevelopment, dental and vision asssessments and a blood test. The children will also be offered skin prick allergy testing. Parents are welcome to attend, but the review has been designed to be appropriate for children to participate in without a parent present
The child weating an accelerometer (physical activity monitor) for 1 week.
For more information, download the BIS Primary School Review Information Booklet here.
The BIS Bus
A welcome new addition to the study is the "BIS Bus", a mobile laboratory funded by the Gandel Foundation and supported by Jayco, which enables us to visit BIS children at school. We will be seeking permission from BIS families and local primaries to review the kids at school, which will substantially reduce the participation burden placed on parents.

The BIS Bus hit the road in early December 2019, with the first reviews taking place at a local primary school on the Bellarine Peninsula. The convenience of the BIS Bus meant that 100% of participants enrolled at the school were able to be reviewed at the school, with little disruption to the children or their families. All of the BIS children were very excited to be aboard the welcoming BIS bus and enjoyed taking part in the study measures.
Currently, due to COVID-19 restrictions, we have paused all research activities at primary schools and are inviting participnats to attend the BIS offices.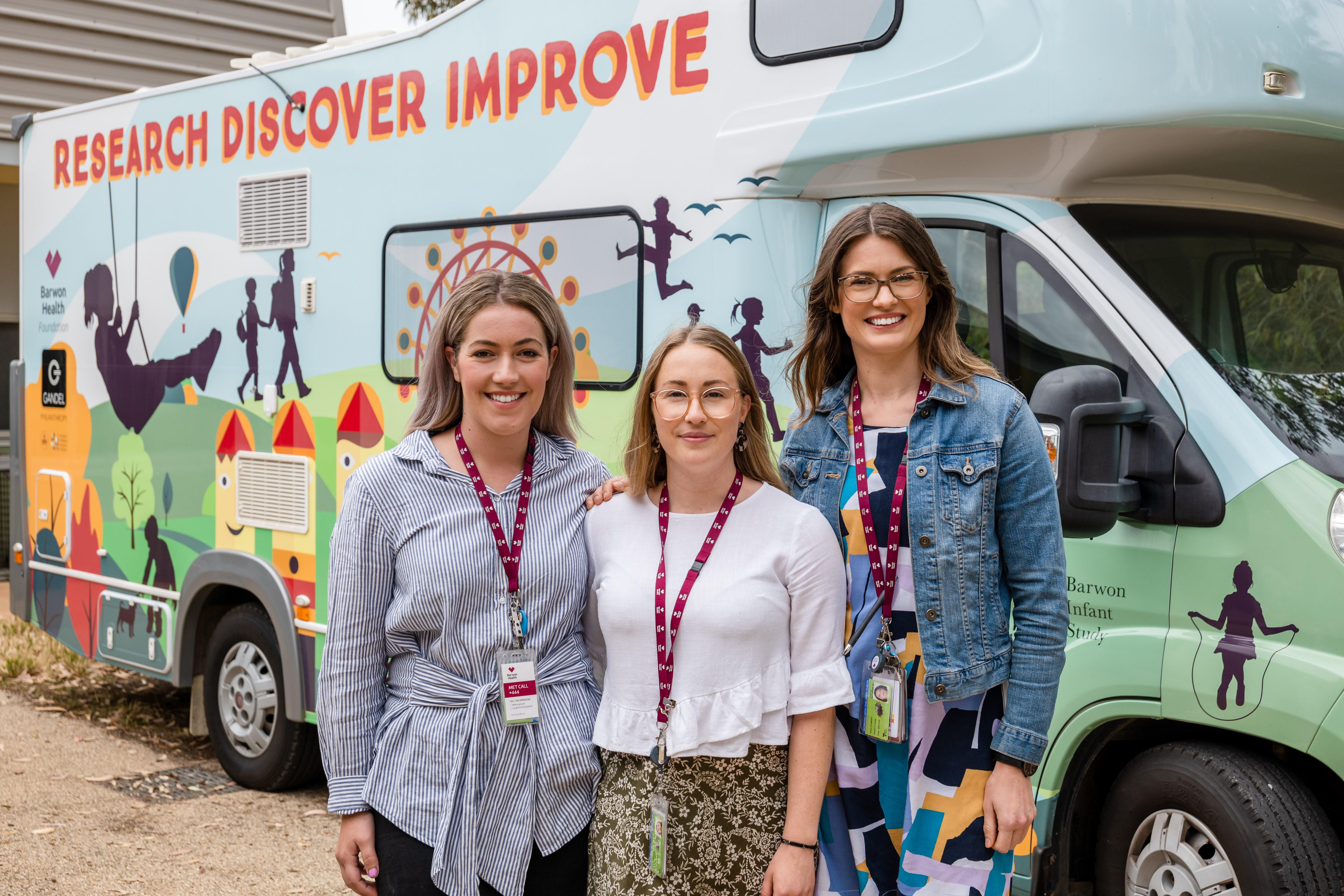 Pictured: BIS Researchers with the BIS Bus
We can't wait to see all the BIS babies as big school children over the coming years and the team are very excited to be rolling out the next wave of BIS.
Please let us know at bis@barwonhealth.org.au or 0400 432 976 if you need to update your details.